My Lonely Website

Facebook and Twitter have really taken over my content sharing sphere :) I rarely come to this site and have always had some grand idea to start writing about my stock market thoughts or even transcribing and cooking all my mom's recipes, but just never got to it. So I had a couple kids and got busy as a stay at home with sometimes fun consulting projects, but now I'm full-on having fun working with 2 great clients in the SF Bay Area. This time around, I'm focusing on content strategy from the perspective of taxonomy and metadata and search engine configuration. I may consider going back to interaction design but will probably help where especially needed, content management systems ;)
I'm still here

Actually have been off of Facebook/Twitter/Pinterest for the past month. It's been a great experience rediscovering my interest in stock & market interest. Reading more thoughtfully in my bible study and journaling more about my days for myself. Lots of stuff happen throughout the day with the children and I'm working on a part-time consulting gig. J has been super busy with his new job and things are just a bit more busy these days. We are very excited about planning our summer activities and looking forward to the Long Beach Grand Prix in a a couple of weeks. Taking each day as it comes and very grateful for all that God has provided and will be provide for us. Peace out!
Moving after 10 years

I'm getting sentimental. We told ourselves we wouldn't stay more than 2 years and now 10 years we've decided to move. It's difficult to pack when all I want to do is reflect on the wonderful times we've had here. It's just a house, some may think, but when we build these memories over time it really IS a home. It's with mixed emotions that we begin this sad journey of packing and sorting through our things. I want to take pictures again after we've packed but all the furniture in place. This actually has been the longest time I've lived in any one place since growing up we moved to a few different places. I hope I can give my kids the sense of place, not in just one little house on a street, but more of a sense of place in the world. I don't plan to trek the world randomly with them, but I want them to know that wherever we live or visit or have temporary quarters, that we leave a little bit of ourselves and we gain a little bit of that place. I really am going to miss this place.
These are days...

Nothing much going on at home besides some basic renovations(new roof, new paint and floors in kitchen.) Just caring for 2 kids and not stressing out anymore about what to do about work. I focus on the kids and home and let J deal with work. It's really helped me understand my role and he's been helpful when I'm too tired. We still have a nanny part time to help through the summer as we venture to various activities around the SF Bay Area. For photos and video please email me so that I can connect you with our flickr account if you aren't already on Facebook. I rarely post photos here but if I do it's probably from way back when and just one offs.
Wish List 2009

We've been blessed this year and we hope that you have been too. For this holiday season in lieu of presents please consider donating to a local shelter or food bank. Or if you'd like to give to organizations we support here is a list of them:
Blossom Birth of Palo Alto
A birthing resource center in Palo Alto that provides services to everyone even those with economic hardships.
Family Connections
A local free non-profit parent cooperative preschool for disadvantaged families of East Palo Alto, Menlo Park and Redwood City.
World Vision
We have sponsored a little girl since 2007 in Sri Lanka and it's been a blessing to get updates about how she, her family and her village is doing over the past couple of years.
Bethlehem Ministry
A ministry that supports the welfare of those in poverty in Haiti by building schools and establishing clean water programs.
Open Gate Nursery School
B's preschool is a non-profit parent cooperative that relies on fundraisers and donations and the support of its parents to run this school. The school is also involved in supporting preschools such as Family Connections.
Abundant Life Christian Fellowship
The Leukemia & Lymphoma Society in memory of Jeff's dad, Stephen Chan.

Evian Baby Commercial

This is just so adorable.
Sour's Hibi no neiro

This is just a great little video that shows lots of creativity. I hope you enjoy it.
New Skills for B

She has figured out how to lock the doors to the bedroom and bathroom.
She knows that to make tape stick, you press it down.
She knows that to take off a piece of tape, you have to scratch the end with your finger nail.
She knows that when something is taken away from her while she's still playing with it, throws a tantrum.
She knows how to "shush" like a librarian.
What I Am Thankful For

This past thanksgiving was quite a challenge for me. I had alot of things in mind for baking, cooking and celebrating. Lucky me, I came down with a bad cough the weekend before. So Thanksgiving I celebrated by myself at home so that I could sleep, rest/recover. J and B went off to a relatives home. I didn't get a chance to really share what I was thankful for...
I am the luckiest mom in the world. When J took a week off in between jobs he completely took care of my "honey do" list and spent lots of time playing with B and quality time with me. During Thanksgiving weekend, J took care of B completely including cooking and cleaning up after B.
I am also very thankful for Benadryl stash that J has because of allergies and the trust epipen in case of emergencies. I had a bad food allergy reaction Thanksigiving night after J brought home dinner leftovers. Hives for a day isn't so bad, not being able to nurse B was difficult.
I am also very thankful for the ability to be a SAHM. With proper budgeting and sound fiscal policies in our household, it is such a wonderful joy to raise our daughter and help out in my community when possible. In the next year I hope to pick up any contract or consulting gigs to supplement B's diaper fund.
I am so very thankful for my friends and family who have pitched in to help us in this first year of parenthood. For all the wonderful meals and grocery shopping, for taking care of B when J and I were down with stomach flu at 3am, for those who watched B for date nights even when we didn't plan it, for those who held B to nap for more than an hour, and especially for those who gave us advice and much needed shoulder or ear to lean on. We love you all so much for being there for us. We hope we can do the same in return.
Living Productive Lives

Great links to many articles about simplifying your life.
30 aritlces that will help you simplify your life
I've linked it here to remind myself every so often to reduce, reuse, and recycle. We've been practicing many of these suggestions for many years now.
Day 4: Nap Training

She woke up at 6:30 just fussing. Fed her and she was just so happy and well rested. We went to church and she fell asleep around 8:45 and woke up when service ended at 10am. But the only thing, she was in the Ergo with daddy.
PM nap, fell asleep eating in my arms for about 20 minutes. Tried to put her down and she wouldn't let go of my arm. Tried to take her into our bed so we can all nap. Didn't happen.
She started to get sleepy around 5:15 while eating dinner. Gave her a quick bath and nursed her to sleep. Put her in her crib after 20 minutes and she fussed for a second while I put the rail up and she's out. Down at 6pm on the dot.
We'll try again tomorrow.
Day 3: Nap Training

Same as day before. AM nap involved crying for 10 minutes. Woke up and then ate and played. PM nap, what PM nap? :(
Inspiring Last Lecture

Professor Pausch a visionary in computer science, edutainment and lived out his childhood dreams.
More information about Profssor Pausch at CMU.
Erin's Photography on KQED

Birds in Maine & Jaspar in Snow

My Favorite Things: Baby 0-3months

1. My Brest Friend
2. Day One
3. Blossom Birth
4. Patty's Post-partum exercise class
5. Lamaze Toys
6. Infantino Toys
7. Books: The Baby Book, Nursing Mother's Companion, What to Expect the First Year, Babywise, No-Cry Sleep Solution
8. Palmer's Lotion
9. Sassy Developmental Toys
10. Classical Music
11. Carter's Clothes
12. First Impressions Clothes
13. Zutano Baby Clothes
14. Tiny Love Mobiles
I'll add links and more advice later.
My Favorite Things: Pregnancy

1. Preggie Pops for nausea
2. Bella Band, to make my clothes last longer before the bump appeared
3. Prenatal Workout w/ Patty in San Carlos, get me ready for labor and stay healthy
4. Belly Bar, healthy snack bar with great variety of flavors
5. Extra Firm Pillows, for supporting my side sleeping
6. Old Navy/Gap Maternity Clothes for clothes
7. Baby Center for community talk, articles and shopping
8. Japanese Weekend Clothes for high end maternity/nursing blouses
9. Blossom Birth Resource Center
10. The Pregnancy Book, Dr. Sears
I'll add more products and advice later

Yes we are geeky parents

Our baby has her own domain. Please email me lchan (at) mywhine.com if you'd like the url/username/passoword.
Rice Rice Baby

Make a difference and play the game
Welcome to the world, Jeli

Just email me for the url/username/password.
Getting Closer Each Day

So just got back from the OB. I'm 2-3cm dilated and 50% effaced. (At least 10 cm is needed for baby to come out and the cervix has to be completely effaced) I'm only a week away from estimated date of arrival for Baby Jeli. This is good news because that means my body is starting to do some of the initial work before I go into early/active labor. This reduces the need to use certain types of medical intervention if the baby is late.
Sleeping has become quite difficult because Jeli is just moving around so much. She definitely has her night/day mixed up. But for sure, she has me on her schedule. I guess this isn't so bad since I'm adjusted to taking naps instead of long stretches of sleep. I think right now I nap from 11pm-1:30am and then go to bed around 3am...it doesn't help that I'm so into Greenspan's book right now. So for all of you out there with no kids, enjoy all the sleep you can get now!
Oh and I chopped off about 6 inches of my hair. It's about shoulder length now. I'll get a photo taken shortly perhaps sitting in the nursery or something :)
SF Open Studio

San Francisco has been having their open studio all month. There's a couple more weekends to go check out local artists. We went to visit my friend Lee's open studio last weekend at 1890 Bryant. A building full of artists! Her website has some samples of her paintings and drawings. Really great pieces! We decided to walk around a bit to check out the other artists and stumbled upon Elsa Madeleine Studios. We really enjoyed her Arthurian inspired pieces. She even had this border of "Enchanted Alphabets" that depicts various people, places and things that inspire imagination and storytelling. If we didn't already have our modern styled nursery we would have considered Elsa to do murals/alphabet border of this theme. Totally falls into my interests of story telling and children's books! Now I just need to see how soon I can teach Jeli how to use the book scanner :)
Baby Showers etc.

So Baby Jeli is very lucky to have friends and family who love her. Starting in May I had a baby shower from my BSF leader's group, earlier in September my small group from church threw us a baby shower, and then just a couple weeks ago had a mixed friends/family baby shower.
Here are some photos!
Thanks again for everyone who came or sent gifts. We are just so lucky to have you all as a part of our lives. I want to also thank our friend and family who came out from Florida and Southern California to celebrate with us. And last but not least, I want to thank the organizers for all their love and coordination of the parties. I definitely felt the love and care in putting these things together and they were definitely quite fun! Thank you cards are in the making, however with my carpal tunnel handwriting anything is really painful and trying to recruit J to help is like pulling teeth!
We're at 4 weeks and counting. We did the hospital tour, got the carseat installed by a professional, finished childbirth classes and baby care classes. Started washing all the baby stuff including some wonderful handknit blankets, hats and booties. It's amazing to see these handcrafted pieces of art. It will be difficult to not get them dirty. Working on redrafting a will and trust and just trying to enjoy these last few quiet days until D Day.
Baby Jeli has been quite active even with limited room. The other night she was dancing like crazy and I was on my side, J rolled over and asked me if what he felt through the bed was what he thought...I said yes. The baby is definitely a kicker and J could even feel it through our new bed. Some evenings she's so active I lose my breath. I have to stop what I'm doing and just concentrate on breathing, I'm guessing she's kicking up towards my lungs now. As you can see in the photos, i'm HUGE. So much for losing all that weight a couple years ago. I'm hoping to get back into shape as soon as it is possible, maybe not boot camp this time but definitely going to hit the gym and weight watchers. Since I've done it before, I know what it takes to get back down to the safe and healthy weight.
On Baby's Schedule Now

Ok I've figured her all out now. I can tell my internal sleep clock has completed adjusted to the baby's clock. It seems that she definitely keeps me up every few hours at night, basically feels like she's training me to be on her schedule. So she starts moving around 11:30 until 1am, then again she's up around 4am for about 30 minutes, then up around 6:30am. I try to get a little more sleep and then she's up again around 9 or 9:30am. During the day I feel her moving around again after eating. This morning she obviously was up when I could feel my whole tummy area moved, as though she was doing some kind of whole body stretch. I felt 4 sides move at the same time. Woah what a way to be motivated to get up. So these days I'm probably getting 8 hours sleep in probably 2-3 hour intervals. It doesn't help that she's been kicking my bladder too. Jeff is convinced she may be into drumming and found a really funny onesie with a squirrel on the drums. I've thought of getting it but I'm trying to hold off on that type of stuff. Not very practical especially since the onesie is $17!
I was able to switch OBs in a different group so having a doula will not be a problem. I'm pretty excited about it and the stress went away very quickly. Been doing my pre-natal exercise classes on top of going to PAC. It's been really helping me keep my weight from getting out of hand and will hopefully help when I go into labor.
Yesterday we put the crib together. We've started piling all the gifts in there. We're still debating about the trundle still sitting in the room. With a glider/ottoman and changing table, the room is going to be super tight. My desk is in there still too and will be until I'm officially done with my work which will hopefully be end of Sept or early Oct. We were thinking of buying a car but I changed my mind since I'd rather have J stay home a few extra months after the baby is born. The Lexus is definitely more than enough space for the baby. But maybe when J goes back to work we'll upgrade the Civic ;) He's sill chugging along at LM.
More prayers for my friend who had her baby early. Baby M is doing super well and is in the NICU room that is for fattening up the baby. Hopefully she'll get to her target weight and accomplish certain skills to get her home soon to be with her family. Thanks everyone for praying for her.
Fun Stuff to Buy with Extra Money

The stuff is just pure fun.
This is my kind of summer camp

A really fun article about how someone put together a summer camp for kids with the theme of day spas.
Kids escape to spa camp (SFgate)
We've Got Contact

The other night J felt the baby move just before we went to sleep. It was pretty amazing because she's very active just before I go to sleep. I think for him it's the real deal. Seeing it on ultrasound is one thing, actually feeling the kicks is a whole different level.
Disney Friendship Cup

Chelsea FC 2...Club America 1
On the menu: Fish & Chips, Beef or Chicken Burrito
It was an amazing day at Stanford Stadium yesterday as Chelsea beat out Club America in an exhibition game. We arrived late, just at the half since we were at a jazz show in La Honda. But we still had fun 2nd row back at the end zone. Cheering Chelsea on who were at 0 at the half. We got a chance to celebrate the 2 goals with a bunch of Chelsea fans all around us. This was my first time at a pro soccer game and I think I really enjoyed the non-stop action. I took some photos on my camera phone but they aren't so exciting. I think it took us longer to get off campus then it was to watch the game. I wasn't much for the menu even though it was already 7pm so I held out for Wahoo's down the street after we finally got out of the parking lot.
Monotones, The

The music was awesome. Two shows and perhaps 75 people throughout the day, the band did a great job.
Video will be shared when editing is completed.
21 Weeks and Going

So I'm at 21 weeks as of Sunday. Woah I'm passed the halfway point now. I've been quite busy with work and even reviewing additional projects but I know I'll be wiped out in the next month as I wrap up. Jeli's movement is alot more pronounced especially after a hot cocoa or ice cream sundae. I can't wait for J to feel the kicks. As you saw on the ultrasound video, she's quite active or she has major hiccups.
Yes I know I should watch how much sugar I have, but without caffeine it's the lesser or 2 evils. I do my GT test in a few weeks so I'm trying to really cut out sugar. I opt for fruits when I need a sweet kick. Just the other day I picked up a Hanson's Mandarin Lime soda, I figured "all nautral" won't be bad. Have you seen the nutrition label on it. It's like 32g of sugar in there! So now I'm down to water with lemon or lime slice and steamed plain soy milk or nonfat milk for something to warm me up.
I bought the baby an outfit online the other day. I just love the colors and styles from Zutano. A good friend who is also pregnant recommend Norstrom Rack for discounted Zutano baby outfits. I just love it.
One other gripe, why does baby furniture & stuff have to look like it was old skool and mainly pink/blue/green/yellow. Why can't I get the wild lime greens, purples, oranges, and wacky dots and stripes galor! And why does modern/contemporary furniture and baby gear have to be priced for celebrity moms. I love really good modern design like any other person but I'm just not sure about spending that kind of money for my kid.
Return of the G-Clan

Had such a whirlwind week. 2 days in LA fly back home to spend time with friend visiting from NY. Fly down next day for 2.5 days in SD to meet new nephew and gather with the G-Clan. Return home in time to host K & G for the weekend! What a fun-filled week of friends and family from all over the place. Lots of food, lots of baby stories and of course lots of Apples to Apples.
I'm at 19 weeks according to the calendar. We find out if boy or girl tomorrow afternoon. Stay tuned for a special email blast to friends and family.
Week 16 and Counting

We visited the OB on Wednesday and we finally heard the heartbeat. It was quite amazing to hear how fast it was going. The NP mentioned it was around 150-160 beats per minute. Wow! So things are progressing well however the last 5 weeks were really trying. Somehow my nausea/vomiting hit me while we were in HI and a week or so ago I had the worst moment where it wasn't stopping and I couldn't keep anything even water down. So I changed my diet and I'm down to really small meals(aka snacks) every 2 hours with lemonade or water only 30 minutes before or after a meal. So if you were to see me one day you'd think I was a pig just snacking all day. It's a really rough day if I don't nap too. All in all things are well.
BSF just ended and I shared today on our last day of class. I stepped down as CA since it will be quite difficult to manage all the materials and stuff with a baby due in the fall. At our last leader's meeting the ladies were so wonderful to give me some shower gifts. I was in complete shock. I was totally not expecting it and just in total shock and didn't even want to be in the center of all of it. I was just amazed at how loving and caring all these women were to me. Now I have a baby tub, baby's first read-along bible, cute baby praise & worship music and tub full of other essentials. I have been so blessed by these women and in serving the Lord. I hope someday I'll be able to bring along Jeli to BSF preschool when I return to class in maybe 2 years.
A couple more weeks and we'll find out if Jeli is a boy or a girl. We're really excited.
Make a Difference Through a Gift

I've shared in previous posts on ways to make a difference in the world by making donations in honor of special events. My friend Avinash shared Changing the Present with me the other day. It's similar to Heifer International and Alternative Gifts where you can donate money to fund specific projects around the world that really makes a difference in many lives. I hope you consider these sites when thinking of birthday or holiday gifts.
Update on Jeli

Well I'm at 15 weeks today. Had a very quiet day since my nausea has really kicked my butt. This past week has been the worst so far in my pregnancy. I was really sick to my stomach(aka vomiting) for 4 day straight, hardly anything really staying down. I've lost a couple lbs this week. Dr got me on some OTC meds for the nausea. I hope it works since I don't wnat to get into any heavy duty meds so soon.
Why have I lost weight? I get this quesy feeling every time I get hungry or I'm full or when I'm about to brush my teeth. Certain smells including dirty laundry, stinky cheeses, raw meats, and body odor(gym smell) have been some triggers. It hasn't been fun. Except for a couple of business trips this week(which forces me to keep plastic bags on myself for emergencies) I've been just stuck at home. The video editing was on hold since things got busy for J but it's ok since I haven't done dishes in a wihle or picked up after myself so I'm not pressing for any domesticity or urgency on anything. I'm just feeling blah!
So I guess Jeli is doing fine since the hormones must be raging right now which keeps Jeli going. I'll be seeing the doctor again in another week so maybe we'll get to see some video again. Some say you can make out the gender of the baby around 16-20 weeks. We're scheduled already in June for the official ultrasound to determine that but we may get a sneak preview in another week.
Cool Library Program

Got a note from a dear friend who just made a donation to this program, Room to Read. They provide education and library resources to developing countries. It sounds really cool and looking forward to diving more into their website.
Thanks M family!
Video of Jeli Bean

So cousin Rod has nicknamed the baby, "Jeli" = Jeffrey + Lisa.
So Jeli had his/her video debut today. We got some video clips that we have to edit and post. But what was amazing was how wiggly he/she was in there. It looks more like a baby now and at 12 weeks it's quite amazing how active.
A few more weeks and we'll find out about the gender of the baby.
We've Got a Heartbeat!

J was with me at the dr. office today and during the ultrasound we actually saw the fluttering heartbeat. It was quite amazing!
A Goat Can Really Save a Village

I went away to a retreat at Asilomar with my church. I was definitely blessed with having a roomate from Kenya. We shared so many things in our history and we had many stories to share about serving our world and those nearest to us. I told her about giving goats for Christmas and she shared a very moving story with me. S. told me a story about how a family she knew did get a goat. Similar to the ones that you can donate through various organizations. How the goat produced milk for that gave the family money to send the kids to school. Eventually one of those kids got into Harvard on full scholarship. The kid could have stayed in the US and taken a posh job. However the kid decides to give back to her village and try to make a difference. She brought in new programs, new ideas for the economy, and social services to meet the needs of the neediest of the village. She came back to put her education to use. All of this could only have happened because of a goat that was given as a donation to her family.
For birthdays and holidays consider giving a gift that really makes a difference. Check out the following:
Alternative Gifts International
Heavenly Treasures,
Network for Good
Heifer International
A Whole Box of Chocolates

I can't help but share a little story. I was headed down with CW to LA to meet with a new client and while waiting at the airport we decided to get a box of dark chocolates. Nice sugar rush to get us through the evening. Well there we were at the gate, opening the box, reviewing all the pieces of luscious chocolates, tempted to poke through to see what each treasure contained. We sat there debating, guessing, playing some kind of psychic before biting into each one...some good choices some not so good choices. I can't say there were bad choices since this was dark chocolate. It was quite exciting binging on the chocolate and having a partner in crime. Although is it really a crime to give a pregnant lady a box of chocolate before heading on a plane for business meetings? Nah. What was really funny was this one guy telling us that we would have made a really good See's candy commercial the way we were playing the guessing the filling game. One of the gate attendants even shared a memory of tearing into a box of chocolate and only eating half of the pieces to just see what was inside. I think everyone in the waiting area just wished we walked around to share. We were so enjoying that chocolate even when we got on the plane. How evil was that? He he he.
Local Bay Area Artist

Andrew Gurthet: watercolors, photography, scuplture
His artwork really does reflect his statements.
I want to slow down and just reflect on as much as I can see rather than get caught up in the world of instant messages, fast paced life and the stress of deadlines.
TMX

We opened the box, turned it on and pressed tummy.
J & me: rotfl along with TMX.
We first bought Tickle Me Elmo 10 years ago during the first craze and this TMX is just a hoot. It's alot more fun than the original and even more fun than my Furby from 1998.
Following Alicia

I don't know if you ever saw one of my posts about my friend Hechung and her preemie baby that was born at 24 weeks gestation. Well here's Alicia at a new website, Call Me Alicia.
She has been recovering well and just looks great! I'm so happy that she pulled through such a challenge. God has definitely blessed this child.
Christmas Gifts that Make a Difference

Mission Gift Fair at MPPC
November 18-19. MPPC is partnering with Heavenly Treasures, a micro enterprise network committed to changing lives. Every purchase of a Heavenly Treasures product helps break the cycle of poverty for artisans living throughout the developing world, with proceeds being reinvested to
sustain their local businesses.
Please make a difference this holiday season and buy gifts that will really change the world.
Other similar organizations...
Alternative Gifts International
Network for Good
Heifer International
All the Leaves are Brown...


and the sky is gray
Fall is here and with such an easy summer it really is difficult to believe that we're really halfway into October. The mornings have a crispness to it and crawling into bed has a bit of the chilliness that I don't usually expect. Nothing that a nice eletric blanket on a timer can't take care of.
In two weeks it will officially be the end of daylight savings. Halloween and Thanksgiving are already being passed up by Christmas decorations in many stores. Why are we in such a hurry to see the end of the year? I want to savor today to its fullest. Experiencing all of God's beauty in nature and all the people I spend my time.

Random Stuff Today

I started reading _Stop Your Cravings_ and there was a recommendation for a quick sweet warm treat...it's basically warm milk with cardamom, cinammon and some honey. I really like it. It helps me calm down from a busy day and it's nice to have while reading a book. It's similar to a chai latte without the black tea. My own honey spiced milk.
Sweaty Knees
I had one of the hardest workouts today. I knew it was very challenging when I was doing some weights while on my knees and I could see the sweat prints on my knees...not a pretty sight. However it's awesome to know I was working hard enough to have sweaty knees. I need to start seeing some results soon!
Writing for Kids Again
Started to do revise my lizard story again. I head off to Davis for an all day writing workshop. I'm probably going to sign up for a whole weekend retreat in Asilomar as well since it will help me get more stuff out. Going over all the publishers in children's book was a bit overwhelming since I'll have to write special cover letters for each submission. I'll keep everyone posted on how the submissions go. They usually take anywhere from 3-6 months to respond. I'll probably blog the whole experience in case others are thinking of doing the same thing. For now, I highly recommend the Society of Children's Writers and Illsutrators as a resource for getting started and being more professional about writing.

Happy Birthday to gal at gym

...I would whine but it's really kind of sweet.
Saturday if you were a guy, you hoped that your wife didn't see the Mercedes R parked in front of the gym with the big red bow and Happy Birthday sign on it. You probably even groaned and realized that your wife/partner/gf would see it and of course the bar would be set really high for your next gift.
On Saturday if you were a gal, you swooned over such a romantic gift and wished your husband/partner/bf would surprise you with something really sweet. Wondering wow, that guy is a total keeper!
When I got to my group workout, everyone was congratulating the guy in class for such a nice surprise. Some waited after the class to see her reaction, others just walked by to check out the car. I think it was just really neat. Happy Birthday D-.
The Joys of 2 Screens

I can't say enough how excited I was yesterday when the UPS guy came up to the door to deliver my new 24" flat panel monitor. We don't have a TV(except for the one mounted in the bathroom) so we usually watch movies on our laptops, which isn't that fun when you are watching an exciting adventure movie or a beautiful scenary. The beauty of this setup is that I use 2 screens for work now. I have my main tasks on the monitor which of course tilts and turns and my laptop screen that has the utitilies like email and calendar. It's just awesome. Now I wish I got two monitors and to have those side by side would have been awesome!
More Updates on Alicia

Alicia was born at 24 weeks gestation, 1lb 4oz, ...she is now 14 weeks old and 4lbs 7oz. She is still in the hopsital and there maybe some issues with her eyes.
Alicia's Website is where her parents keep everyone posted on her development.
Pleaes keep her in your thoughts and prayers (especially for her eyes).
UPDATE 7/25/2006: Alicia went home today. She's just at 5lbs...and we are just so amazed at what has happened over the last few weeks.
Librarian Comics

I went through the archive laughing my head off. Now a new series of comics to enjoy in the middle of the day.
However it doesn't replace Ok/Cancel.
Ok, now I need someone to meld the two themes of these comics :)
Now Online...16F9: J's debut on silver screen

This is an independent art film that J's friend did a few years ago. He recently posted it online. This film should not be viewed at work or in the area where children may see it because of nudity.
Stefano is a multi-talented creative genius: a great industrial designer, film producer, artist, fashion and amazing athlete. This particular film even got shown at Sundance Film Festival a few years ago.
16F9 by Stefano Moris
Hoike: Presidio June 2006

J and I are just so proud of J's sister. She just completed her 2 year committment and dedication learning the tradition Hawaiian dance of hula. A wonderful display of culture from old to new. I can't wait to learn more about the movements and stories behind the dances she learned.
If you're in SF, you can take lessons.
Congratulations Leslie!
Good Busy

I'm back into the IA saddle. It's pretty exciting. I've been at it for about 2 weeks now and life is quite fun. I'm consulting for a company up in SF while also continuing projects for a friend's site in NYC. This summer is going to be busy with that and completing my certificate in business with the last class, managerial accounting...I've been dragging my feet on this class and for a good reason. I'll tell you if you ask. I've gotten heavily involved with BSF and will be in a leadership next fall so I'm quite excited to be able to serve and to go deeper into scripture. On the side continuing my knitting and scrapping, hopefully I'll have the time to do both this summer ;)
Uber cute chinese zodiac cards

This was passed to me from a colleague. New Year Designs creates cards with the chinese zodiac characters as the theme. Are you tired of those ornate red and gold decorated cards? Here's a great alternative.
They are just so cute. I'm hoping to get some to add to my stationary collection.
From the Land of Oz

Our friends Johanna and Richard who are originally from Australia, but who we met at The Vine in Hong Kong and who have just recently finished missionary work in Indonesia came to visit us and do a tour of the Americas. They just left this morning and was super sad that their stay was so short. I'll post photos of our adventure to Alcatraz, Santa Cruz boardwalk, Lombard, Golden Gate, Haight/Ashbury, and Oakland A's game shortly.
I wish them many blessings for a safe trip to South America and other parts of CA.
Prayer Request: Babies on my mind

I have had a couple of friends who had babies a little early than full term and we're praying for the fast development and healthy recovery both mom and baby.
One baby that was super early(24 weeks) is on life support right now and facing some challenges. I went to high school with Alicia's mom. I ask my friends/family out there even though you don't know them, if you could just think/pray for them. Alicia's parents have created a website with many updates on the baby.
Z-Coil Shoes: Testimonial

Ok it's been 2 months since I first bought my Z-Coil shoes. They are quite an interesting shoe and it's very difficult to go back to my regular shoes. Basically the heel sports a huge coil that absorbs and distributes the pressure and impact of walking/running to the whole shoe. Their selection of styles are quite limited, and basically they are like orthopedic shoes, however my knees/health are important to me since I enjoy working out and keeping off the weight and fashion right now it not a priority. I'll be really surprised if it does take to the fashion world. These shoes I hear are really popular with nurses and people in the restaurant business since they are always on their feet.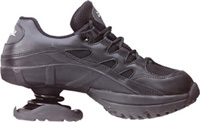 I first got these shoes as a recommendation from our circuit training instructor. She had knee surgery and was not recovering very well. One of the students recommend she try the shoes and has stuck with them and does not even have to wear her knee brace. I've noticed that my knees don't hurt after workouts and I stand up straight instead of slouching. Somehow the way the shoes force your shoulders back and chest out. I really like them alot and wear them even when I'm not working out. Even kids at the malls have noticed and asked me if I could jump high like Tigger.
Where to get on the Peninsula:
EZ Shoes2077 Camden Ave
San Jose, CA 95124
www.ez-shoes.com
Tell them Lisa Chan recommended them. I'm hoping to go back and get the mary jane/strap clog shoe. Also every few years you only need to replace the heel for $35 and they shoe has a warranty. You'll get details when you test drive a pair.
Laughing until Your Sides Hurt

Real Stories Up Close and Personal

I've been reading all I can about miscarriages, ectopic pregnancies, etc. Mostly to arm myself and also to help me grieve and get through the lose. I've kept myself busy these last few weeks and in the last few days even started a knitting project. Knitting has been quite a nice retreat since when I'm working on a project I can get so focused that things that would distract me would just disappear. I'm grateful to RP for getting me started again after a few years JS showed me. Oscars show yesterday and a load of ironing helped me get through yesterday...and today this article of a first-hand account by a reporter on miscarriages has given me more to know that I'm not alone in all of this.
What Keeps My Sides Hurting in a Good Way

The last 3 weeks have been quite challening spiritually, emotionally and of course physically. I found out yesterday after the last blood result(I've been going every 2 days for 3 weeks) that I am no longer pregnant. The medication worked and I do not have to have surgery. If the medication did not work I would have had to lose one of my fallopian tubes. I want to thank everyone again for the cards, emails, phone calls and caring thoughts and for your support during this time.
Right now still healing but to keep me from going crazy I've been surfing online alot which is unheard of for me since I actually don't like being online doing nothing. Some of the things that have had me rolling on the floor laughing and making my sides hurt in a good way:
1. The BC
Boston College parody of the tv hit _The OC_
2. Yo Yo Man
I couldn't stop saying "wow!"
3. MySpace: The Movie
Parody of the hit online social network site MySpace
RFJ: Request for Jacket

If you can tell me where I can get a German Olympic Team jacket please email. I love the green and orange colors...they just go so well with my site!
It's Beginning to Feel Alot Like Summer

It's in the 70s today...get that 73 to be exact. Decided to clean up the garden and clean some windows. It was really nice to be home today...heck I'm home everyday :)
Sand Art but No Castles Here

Sand Fantasy
This lady perform sand artworks by hand over a glass top that is projected on a screen. It's pretty amazing and the music is very relaxing. I wonder what it's like live but watching some of the clips was quite fun.
Cleaning out camera

Totally forgot to post these photos from Thanksgiving...gosh it's difficult to keep track of photos when your camera can hold so much.
Happy 2006

A year ago today we were wandering around Shanghai, China after a whirlwind tour of mainland China that included a stroll through The Great Wall at -20C and various tromping through snow and ice and below 0 weather. But today is different. Last night we spent a quiet evening just the two of us just relaxing and reflecting on the year past where we were before and where we are today. 2006 probably has alot in store for us but right now we're taking it slow.
There's been a bad storm here in the SF Bay Area with lots of flooding in various areas. It's still a bit scarey for us being out there after what happened Christmas night. So hot cocoa in hand, in my sweats and easy rock music playing it's definitely a quiet start...heck I think I want to take a nap.
Chan Bistro & Bed/Breakfast

We did it. We hosted 9 people for a sitdown dinner in our little abode. We did it bistro style with 2 tables.
We had to move the furniture around but it was a blast! We played musical chairs so that we can mingle with the other members of the family. What a spontaneous get together. Some relatives haven't seen each other in 5 years so it was truly special.
Served shepherd's pie and butternut squash & apple soup...Aunt M brought a nice big salad....for dessert my cowboy cookies with ice cream and Aunt M's mocha roll....wow such a blast from the past.
Chez Chan Bistro and Bed/Breakfast Photos
Be sure to stop at Chez Chan while there are still vacancies.
PS: Food Network search engine is horrible!!!!!
PPS: Other holiday photos: Bethleham AD, Chou Gathering
Alternative Gifts for the Holidays

So you don't like standing in line to purchase gifts. Hate the stress of not knowing what to get for those special family members. Here's a way to celebrate the true meaning of giving...to those with a real need.
Don't know what to give someone who really has everything they need. Consider giving a herd of goats to a remote village in a developing country in honor of that special someone...
Alternative Gifts International
Update: More charities as an alternative gift: Network For Good (www.networkforgood.org), and Heifer International (www.heifer.org).