Ok it's been 2 months since I first bought my Z-Coil shoes. They are quite an interesting shoe and it's very difficult to go back to my regular shoes. Basically the heel sports a huge coil that absorbs and distributes the pressure and impact of walking/running to the whole shoe. Their selection of styles are quite limited, and basically they are like orthopedic shoes, however my knees/health are important to me since I enjoy working out and keeping off the weight and fashion right now it not a priority. I'll be really surprised if it does take to the fashion world. These shoes I hear are really popular with nurses and people in the restaurant business since they are always on their feet.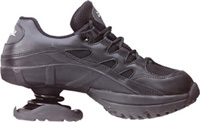 I first got these shoes as a recommendation from our circuit training instructor. She had knee surgery and was not recovering very well. One of the students recommend she try the shoes and has stuck with them and does not even have to wear her knee brace. I've noticed that my knees don't hurt after workouts and I stand up straight instead of slouching. Somehow the way the shoes force your shoulders back and chest out. I really like them alot and wear them even when I'm not working out. Even kids at the malls have noticed and asked me if I could jump high like Tigger.
Where to get on the Peninsula:
EZ Shoes2077 Camden Ave
San Jose, CA 95124
www.ez-shoes.com
Tell them Lisa Chan recommended them. I'm hoping to go back and get the mary jane/strap clog shoe. Also every few years you only need to replace the heel for $35 and they shoe has a warranty. You'll get details when you test drive a pair.
Posted on April 09, 2006 09:19 PM
---
Comments


Post a comment