Depeche Mode: still a black celebration

I guess mainly I want to whine...there was a low level fog over Shoreline Amph on Thursday night. The low laying fog was of course the sweet smell of some folks' favorite (insert drug of choice). Depsite the nice 80s weather the 80s band(actually started in 1975) failed to lift the spirits of the dead. Ok I'm exaggerating. The band played a few sonds from the latests album and splattering of some hits from previous albums. But I wished they played "blasphemous rumors" "somebody" or even "people are people." Oh well. What was even stranger and very different from the typical concert-goer of the 80s. A nice big parking lot of brand new cars and a stable of mercedes benz/bmws. The crowds really did represent a mix of inter-generational and economic spectrum. And some even looked like possible 2nd generation dmode followers where parents and kids enjoyed the music side by side with cup of beer in one hand and possibly smoking something in their other hand. Definitely great fun to sing along, band had a fun stage presence. I wasn't too impressed with martin's jumping around on stage, but music and vocals definitely still very strong after so many years. Preshow act was just not what I would have expected, each song sounded like it was going to be a cover of either BeeGees, No Doubt, and some other mix of 70s disco/80s new wave/90s electronic or trance scene. Of course I was underdressed, I didn't wear black nor did I wear black eye-liner...2 things that looked like were required for entry.
The Article I Never Got a Chance to Write

I have it on my list of articles to write but didn't get to while I was in Hong Kong, but Jerry Yang does a great job of itemizing some of our favorite desserts. And the best thing is they are all available here in the Bay Area. There's a really cool dessert place in Milipitas Square that has these awesome chinese mango desserts with sago. Now that the weather is better, I'll email everyone one of these days for a dessert run!
Dessert Storm - Jerry Yang, SF Gate
April in Carneros

Had a wonderful day on Saturday with T&H in Carneros, Sonoma/Napa Wine Country. It's a twice yearly event where a little over a dozen wineries open their doors to wine tasting. In most cases these wineries are so small that they are only open by appointment. Their stock is limited but through events liek April in Carneros they are still accessible. So basically you get a map of the 17 or so wineries, you plunk down $25 and get a wine glass to take to each of the sites and a black wristband denoting you paid. Some wineries had 1-2oz pours others just poursed until you got a good tasting. I remember T got almost half a glass of barrel tasting at one of the wineries. The wine-aholic that I am, I got some of the winemakers to sign the bottles we bought. Most of the tastings were really good and was free to go back for seconds. Most of the venues had various merchants selling oil, cheese or mustard. Live music was present at many of the sites and in many cases there was also free food, either sausage or beef sandwiches. Some were nice an elegant wineries with tents and beautiful landscapes, others were just like garage-style warehouses where they store and also do tastings. We spent the whole day and probably stopped at about 7 or 8 winers, I can't remember. Lucky for us T drove, I don't think I could have made it back home. I think next time I'm considering staying in town. So next time you're here for dinner, we'll probably bust open some of the wines we bought.
How I Spend Some of My Day

Coming soon to a blog near you!!!! I'm putting together a website to document my stock research and analysis. No membership required for now but maybe in the future. And no I have no aspirations to become Tokyo Joe. As a hobby I conduct stock research as a challenging and intellectually stimulating activity.
Disclaimer: I am not in the financial industry or have any formal degrees in investments or finance. This research is by no means an endorsement to purchase the stock
In Honor of the Roller

So of the 2 out of 3 times I've been at Stanford Blood Donation, I've been a roller. Not to be confused with "rolling" (the act of being high on the drug ecstasy). Unfortunately today of all the nice days of the week so far I get a big fat roller in the left arm. The LVN felt so bad she gave me a t-shirt and since I was the last patient they offered the dozen or so cookies left on the table. I'll survive, it's the challenge of having "shy" veins.
Despite the "trauma" of that first sting of the needle, I'm still glad I'm doing this. I've known so many in the past months who have had to have blood transfusions and so it is a very personal task for me. I challenge you in your workplace to get a blood donation drive together or perhaps you try to donate some blood. There is always a need for donation. You will definitely make a difference in so many lives.
Prayer Request: Babies on my mind

I have had a couple of friends who had babies a little early than full term and we're praying for the fast development and healthy recovery both mom and baby.
One baby that was super early(24 weeks) is on life support right now and facing some challenges. I went to high school with Alicia's mom. I ask my friends/family out there even though you don't know them, if you could just think/pray for them. Alicia's parents have created a website with many updates on the baby.
Z-Coil Shoes: Testimonial

Ok it's been 2 months since I first bought my Z-Coil shoes. They are quite an interesting shoe and it's very difficult to go back to my regular shoes. Basically the heel sports a huge coil that absorbs and distributes the pressure and impact of walking/running to the whole shoe. Their selection of styles are quite limited, and basically they are like orthopedic shoes, however my knees/health are important to me since I enjoy working out and keeping off the weight and fashion right now it not a priority. I'll be really surprised if it does take to the fashion world. These shoes I hear are really popular with nurses and people in the restaurant business since they are always on their feet.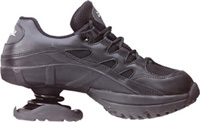 I first got these shoes as a recommendation from our circuit training instructor. She had knee surgery and was not recovering very well. One of the students recommend she try the shoes and has stuck with them and does not even have to wear her knee brace. I've noticed that my knees don't hurt after workouts and I stand up straight instead of slouching. Somehow the way the shoes force your shoulders back and chest out. I really like them alot and wear them even when I'm not working out. Even kids at the malls have noticed and asked me if I could jump high like Tigger.
Where to get on the Peninsula:
EZ Shoes2077 Camden Ave
San Jose, CA 95124
www.ez-shoes.com
Tell them Lisa Chan recommended them. I'm hoping to go back and get the mary jane/strap clog shoe. Also every few years you only need to replace the heel for $35 and they shoe has a warranty. You'll get details when you test drive a pair.
Yummy Goodness

I know, I'm on weight watchers but really couldn't pass up the chance to make a special snack that we had while in Hong Kong. I guess I'm sentimental. Basically it's a thick slice of toast, slathered with peanut butter and drizzled all over with condensed milk. It's like a variation of peanut butter and jelly sandwich but instead of fruity sweetness you have this extra sweet creaminess on top and it is served open face. We ate this afternoon snack with tea back in HK and only after we had or were planning to go to the gym...you needed some way to burn off the calories. Eating it just now with J we began to reminisce of our old hangouts.

Here's a photo of it I found on Flickr.

Here's a better photo I took from one we made at home.
I guess I should take a photo of one that I make at home. However I do know of a couple HK style cafes in San Mateo and Milpitas that have them on their menu. I can't wait for the weather to get better to so I can truly enjoy mango with black sticky rice and coconut milk. If you're interested in a HK dessert run to Milpitas(there's a chain cafe from HK there) that serves up some of our favorite dessert, just email me.
Almost Homemade Cooking

I have a friend who just started working at Sous Kitchen. The concept is pretty interesting and has become rather popular in many major cities. NY Times featured it last week, "Meals That Moms can Almost Call Their Own."(fee)
Basically how it works is that you go to this restaurant quality kitchen and put together your meals. They set up various stations with all the ingredients and the recipe. You can make large or small portions and they are all fresh meats and vegetables. You can make several meals in an hour and just freeze them when you get home. These meals can serve anywhere between 4-6 people depending on the portion sizes. Since it's just me and J at home it would be quite expensive but what is really neat is you can customize the meals based on your family's taste. Also if you are in a super rush you can order certain meals to go and pick it up. And the best idea as well is if you have a family/friend having a baby or some medical surgery that renders family unable to fix meals this could be a great service for them to stock up on homecooked meals without the worry of buying all the ingredients and making it at home.
With most homes with 2 parents working, getting dinner fixed always seems to be one of those things that get pushed off to the side in favor of take-out or prefixed frozen/canned/boxed meals which are usually loaded with preservatives and other additives. Sous Kitchen sounds like an interesting concept and I'm hoping that I can try it sometime.
Sous Kitchen, San Carlos
Grand Opening April 5, 2006
5:30 Ribbon Cutting
5:30-7:30PM Open House
RSVP to grandopening@souskitchen.com
Ok I know this sounds like a ad, but I just thought it was interesting and my friend works there :)
Dunk Your Food Here

Had an interesting dining experience with our friends E&M at Le Fondue in Saratoga. It was our first time there and it was quite a treat.
For cheese we did Kirschwasser(Swiss, wine, and brandy). We dipped fruit, veggies and bread and it was quite nice. The brandy really gave it an interesting flavor.
For our main course we did the Le Fondue combination. We shared with E&M their Fondue Feast. We were able to sample buffalo, calamari, wild boar, elk, chicken, steak and various condiments all cooked in sake.
And then for dessert, bittersweet chocolate with a nice big plate of marshmallows, snickers, strawberries, banana, pound cake, grapes and probably some other things I can't remember now.
Saratoga Village is quite the touristy part of town but it's definitely a nice visit. With its variety of restaurants, boutiques, wine bars, cafes, and antique shops you can probably spend a nice afternoon strolling down the street. Not to far away is also the Japanese Gardens and various South Bay hiking trails.
Great Fundraiser & New Sport Shop Discovery

Our friend MQ is doing a fundraiser for her TNT cycling event coming soon. She decided to host a fundraiser at a sporting equipment store similar to REI called Sports Basement. They have really great prices and their sale racks are even better. What was neat is that a percentage of our purchases went towards MQ's TNT fundraiser for Leukemia and Lymphoma Society.
If you would like to make a contribution to MQ's race for the cure, you can check out her site.